Regional Map Claims
Ascendancy





Posts

: 116


Join date

: 2014-11-24


Location

: Minneapolis, Minnesota

sorry for the low quality and sorry for the inconvenience!! This is our changed claim. Sorry and thank you!!
MAP UPDATE #31 - 20-2-2017
Full-size image (Imgur)
CHANGELOG
*Added claims



Posts

: 22


Join date

: 2014-08-10


Age

: 16


Location

: Israel

Hi guys, I'm back to Esamir again
Busy times, google FRC if you really wanna know, it's pretty cool

Anyways, map claims
Optimally, I would like to reclaim my entire former area which was pretty much this:
But, knowing that this area is pretty huge for a claim and way over the claim limits, I would claim something like this, which I think falls within the claim limits (please do correct me if I'm wrong):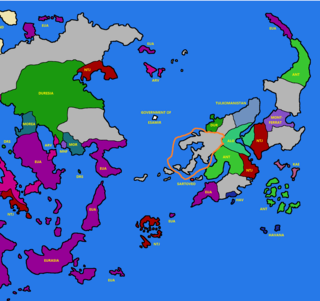 Thanks, Matanya
As you're going to edit the map in the near future anyway, I have another labeling request if that's all right, relating to the new bit I got in the last update. I'm still trying to find a way to acquire this IC without stretching myself, and since those plans aren't materializing right now, I would like to relabel the area with a couple of different independent nations as placeholders for an upcoming conquest or inheritance RP.
Since they're placeholders, I don't need the borders to be exact or anything, but I would like to see at least four major pieces in something like the following manner:
Red: "Silla"
Green: "Valchai"
Gray: "Taivon"
Purple: "Vaikei"
Sorry for the bother.
Morea, I don't really see the purpose of labelling them independent if they're going to soon/eventually be conquered/inherited anyway.
All right, makes sense. Thanks.
Achaian Morea wrote:All right, makes sense. Thanks.
I'm doing some minor edits to the map (tweaks and fixes, minor color issues); I was wondering if you still wanted those four nations properly shown on the map, I've rethought it and I don't know if you still wanted it on there.
If you don't mind, could you just relabel that whole chunk in Oriento "Morea"? Montferrat won't be getting its hands on it, and I think I have a new RP idea that will explain why I'm able to get that territory in the first place. Sorry for the bother!
MAP UPDATE #32 - 23-4-2017
Full-size image (Imgur)
CHANGELOG
*Changed names (Arveyres, Morea)
*Added Matanya